What is Heartfulness? Think Mindfulness on steroids. Using the power of words, mindfulness, gratitude and physical exercise, you can experience your life from a whole new paradigm where possibilities are truly limitless.
Let's dive deeper into Heartfulness.
In the past decade, the business world has been swept up by the mindfulness movement, understanding how becoming more mindful can, in actuality, bring many positive changes in each individual that practices it but also in the companies that implement it.
Mindfulness has been a great step forward as gradually our leaders are becoming more and more conscious of themselves. By also adopting a Heartfulness approach, they are able to obtain discernment of their inner workings and more importantly tap into more resources than before.
The latest studies like the one at Aetna, observed on 15,000 employees, shows that it procured a significant distinction in the health and wellness of the employees and also of the company:
Participants gained 62 minutes of productivity a week

Estimated $3,000-per-employee increase in productivity each year.

Top 20% of high-stress positions lowered medical cost on average of $2,000 each

Indicated a potential $5,000 average swing per employee

Financial value of mindfulness is underestimated when considering costs on turnover, rehiring, retraining, customer service, or client-facing sales.
In line with Heartfulness, it is clearly a foundation upon which leaders should create their legacy and we will be witnesses, for years to come, of their high impact on our society as a whole.
Renown Leaders Practice Heartfulness
As leaders master this basic technique, they will understand that there is a frontier beyond, that will allow them to really step in their true empowerment: Heartfulness!
This power is not only available to the best leaders like John Paul DeJoria, Dalai Lama, Tonny Robbins, Russell Simmons, Michael Beckwith, John Mackey, to name a few in the recent years, it is also accessible to you the leader willing to go the extra mile to become the highest version of yourself and fulfill your life purpose.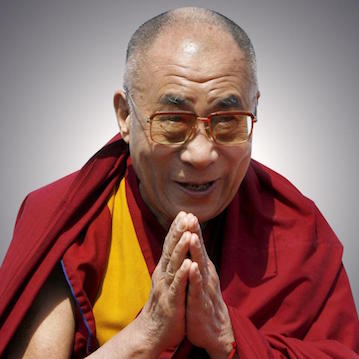 Dalai Lama
Tonny Robbins
Russell Simmons
John Paul DeJoria
Each of these empowered leaders has understood that there is only one missing element in our society that is worth embodying in order to experience the fullest expression of themselves: using the power of their heart.
As a matter of fact, the Dalai Lama even created a foundation whose sole purpose is to balance the heart and mind in our youth as it is a dire need in our society.
Your Power Lies In Your Heart
From a scientific standpoint, it is known that our heart is way more powerful than our brain (although the masses are not aware of it). Studies have proven that the heart is far more important than we give it credit, whether in our private lives or in business:
The heart has:
an electromagnetic field estimated to be 5,000 times more powerful than the brain.

an electrical field about 60 times greater in amplitude than the electrical activity generated by the brain.

a magnetic field can be detected a number of feet away from the body

transmits more information to the brain than vice-versa.
The Heartmath Institute has also shown that by bringing a higher degree of inner coherence:
our heart and brain synchronize better, promoting alpha waves entrainment

improves cognitive performance

fosters emotional balance
These studies only offer a mere glimpse of what is truly happening within ourselves when we step into the practice of Heartfulness. As history has proven time and time again, there is no limit to what a human being can do when he or she is fully empowered.
As leaders step in into their personal empowerment, there will be an organic growth in the understanding of self. Practicing any technique that strengthens the connection with their heart which constantly increases the degree of inner coherence is paramount.
This is the reason why, we, at HealThruWords®, have taken upon ourselves to bring to the world the path, steps and techniques, to empower leaders and individuals to their own personal fulfillment, through the process of Heartfulness, so that our society as a whole can produce more and more positive, highly successful, world-changing leaders.
The technology behind HealThruWords® 60-Second Mindful Moments
HealThruWords® uses its heart-powered Encoded Healing Technology™ to impress the subconscious mind with positive codes of information. EHT™ is a unique technique backed by science and practiced by ancient civilizations thousands of years ago. Words and images are intentionally arranged in ways that enable the conscious mind to imbue the subconscious mind with specific codes, universal human values, and social standards boosting the positive transformation of individuals and, as a result, of the organizations they work for.
Since 2012 HealThruWords® EHT™ 60-Second Mindful Moments have inspired more than 50M people globally and they continue to support the positive transformation of a thriving community of over 200,000 people from more than 100 countries.
Why HealThruWords® 60-Second Mindful Moments are different?
HealThruWords® 60-Second Mindful Moments are not ordinary inspirational mindful messages. HealThruWords® 60-Second Mindful Moments have a profound transformational and harmonizing effect that is achieved through the frequencies of the words used to construct HealThruWords® messages. Words are very powerful tools. Latest scientific discoveries have shown the decisive impact words exert on ourselves and our environment.
Words can be transmitters of negative or positive frequencies. Here at HealThruWords® we believe that for too long words have been used to promote more negativity than positivity. Our purpose is to reestablish natural balance by lowering the negative self-talk of every single individual and its greater community or group.
How do HealThruWords® 60-Second Mindful Moments work?
When a HealThruWords® 60-Second Mindful Moment is read, the words in the message, together with its carefully selected and well aligned visual, activate the Encoded Healing Technology™ progressively clarifying limiting mental and emotional patterns.
Long-lasting positive change begins at the subconscious and conscious levels. Inner positive change always leads to outer positive change. Even if at first changes seem unperceivable. After a few weeks, depending on the heart and mental openness of the individual, personal, and professional positive changes happen as the person transforms from the inside out.
Testimonials
"Your work has inspired me to try harder to live, I had given up on myself in this horrible nightmare, now I have hope, thanks." ~Philip
"I want to thank you for all the HealThruWords quotes. I have changed so much in a positive way and all thanks go to you. Today is my birthday and all my friends have appreciated my thoughts this is the best gift. They told me how much positivity I have and they also want to change themselves." ~Rimsha
"It made me realize that I am not alone and it stopped me from taking my own life." ~Luvie
"HealThruWorlds has reminded me daily to simply live life to the fullest, to allow myself to simply learn and grow and to continue to inspire others to do the same." ~Michael
"Being more positive and honest with myself has allowed me to grow and enrich my experience and take charge of my life and health." ~Beth
"You did heal me by your words. Thank you." ~Albert
"Words are powerful, both those we tell ourselves and those we say to others. What a wonderful gift this program is and I am so very grateful for it." ~Anne
"We have to thank you because you are healing our minds through your words." ~Ali
Back to your
Mindful Moment...
Warning
: Use of undefined constant HTTP_HOST - assumed 'HTTP_HOST' (this will throw an Error in a future version of PHP) in
/home/customer/www/healthruwords.com/public_html/wp-content/plugins/shortcodes-ui/shortcode-maker.php(765) : eval()'d code
on line
1
Warning
: Use of undefined constant REQUEST_URI - assumed 'REQUEST_URI' (this will throw an Error in a future version of PHP) in
/home/customer/www/healthruwords.com/public_html/wp-content/plugins/shortcodes-ui/shortcode-maker.php(765) : eval()'d code
on line
1